Kaimana Beach Hotel
Hotel
Jalan Utarom, Kaimana, Indonesia, 98654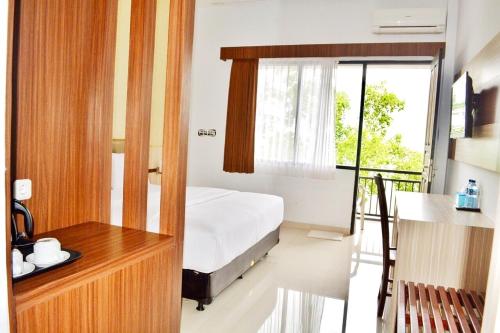 +23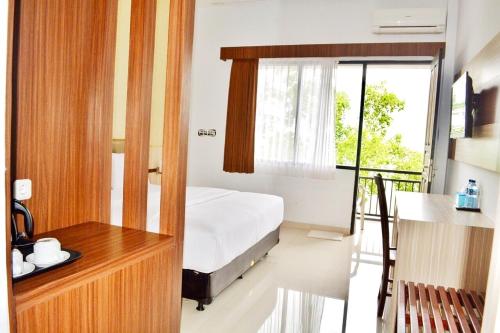 1/27
Fasilitas
AC

Wi-Fi Gratis

Ruang Bebas Rokok
Resepsionis 24 Jam
Parkir Gratis

Antar Jemput Bandara Gratis

Lihat Peta
Pencarian untuk
Fri, 29 Oct 2021 - Sat, 30 Oct 2021, 1 Kamar, 1 Tamu
Yahh, tidak ada kamar tersedia
Kamar yang kamu lagi tidak tersedia, coba ubah tanggal pencarianmu ya!
Ulasan dari tamu
Booking.com | Berdasarkan ulasan
Hanya tampilkan ulasan dari Indonesia
Well the USP of this place is the location in Kaimana itself. It's the only facility available in Kaimana that can be booked on booking.com, and from I saw of the town, probably the best hotel around. We did get a beach view, and an apartment rather than just a room.
There seem to be few reasons to be in Kaimana. We were there to catch a diving boat. We decided to arrive two days early because we were informed that the flights into Kaimana were unreliable. Also the routing was torturous so we wanted time to recover from the flights before boarding the boat. We had the view of the beach, but it was covered in plastic bags. The facilities in Kaimana are few and far between. The room was billed as a luxury room, but it was rather basic actually, just large. Breakfast was abysmal. Restaurant is not open for lunch or dinner (but probably you'd want to avoid it if it had been). We ate at some small cafes along the street. Menus were limited.
John
United Kingdom • 29 Feb 20
Clean enough
Many mosquitoes in the room
Anonymous
Swiss • 25 Feb 20
Not too many options in Sorong
6,0
Seaview and location. Local market is about 5 minutes walk and a decent local restaurant 3 minutes walk. There's a lot of small shops around if you need to buy some last minute supplies.
There's only two options for foreign travellers in Sorong and we are only here for transit. Everything worked for one night so we had no complaint. We had been travelling so we had some laundry and they were happy to do it for us for a small fee and it was quickly done. The restaurant closed at 4 but there's several restaurants open at night in the area.
Anonymous
Jerman • 16 Jan 20
Not bad for a small town in Indo
6,0
The bed was comfortable, AC worked, room was clean and water was hot. Not much else to recommend it but Kaimana is n the boonies so all in all it was a good place to stay. Probably best hotel in Kaimana.
Not much around it. There is an outdoor market .25 miles away but otherwise not a good pace for walking.
Anonymous
Amerika Serikat • 8 Nov 19
this is a hotel in a small city in West Papua, and you should not expect a five star experience. they try hard and have a goo attitude.
Phillip
Amerika Serikat • 27 Okt 19
Very convenient to access river to fish Papuan black bass. Also near from Toriton bay. 1 hour to swim with whale shark.
Yasuhiro
Jepang • 19 Agu 19
Deskripsi
Terletak di Kaimana, Kaimana Beach Hotel menyediakan 3 unit dengan balkon pribadi. Akomodasi ini menyediakan resepsionis 24 jam, antar-jemput bandara, layanan kamar, dan Wi-Fi gratis di seluruh areanya. Semua kamar di hotel ini memiliki meja kerja, TV layar datar, dan kamar mandi pribadi. Kamar-kamar di Kaimana Beach Hotel menyediakan AC dan lemari pakaian. Sarapan halal tersedia setiap pagi di akomodasi.
Fasilitas



Makanan & Minuman
Layanan Kamar

Transportasi
Antar Jemput Bandara Gratis

Layanan resepsionis
Resepsionis 24 Jam
Check-In/Check-Out cepat
Layanan kebersihan
Laundry

Fasilitas bisnis
Fasilitas Rapat

Lain-lain
AC
Ruang Bebas Rokok
Hotel lain di Kaimana
Kaimana Beach Hotel
-
Jalan Utarom, Kaimana, Indonesia, 98654
Lihat di Peta