Medewi Surf Homestay
Guest house
Medewi, Pekutatan, Pulukan, Medewi, Pulukan, Indonesia, 82262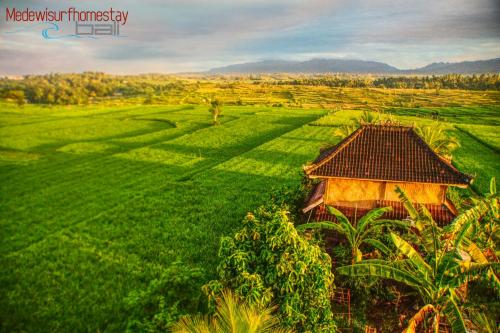 +51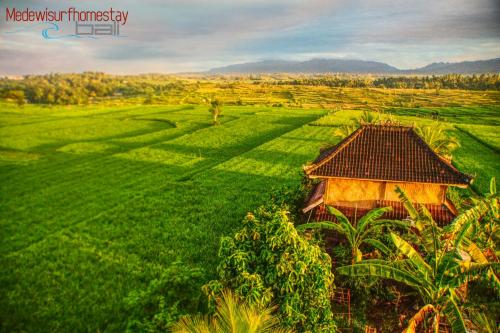 1/55
AC

Wi-Fi Gratis

Restoran

Ruang Bebas Rokok
Resepsionis 24 Jam
Parkir Gratis

Lihat Peta
Pencarian untuk
Tue, 21 Sep 2021 - Wed, 22 Sep 2021, 1 Kamar, 1 Tamu
Yahh, tidak ada kamar tersedia
Kamar yang kamu lagi tidak tersedia, coba ubah tanggal pencarianmu ya!
Ulasan dari tamu
Booking.com | Berdasarkan ulasan
Hanya tampilkan ulasan dari Indonesia
Dean
United Kingdom • 26 Mar 20
Andy
Amerika Serikat • 1 Feb 20
Nice outdoor bathroom and nice communal meal cooked by family. Also had access to fridge and hot water for tea which was good. The design of the cabins was really rustic and nice.
Susie
Portugal • 30 Jan 20
This is the real Bali and this is the best place I have stayed when travelling around Indonesia.You are part of family and you are welcomed and treated like family.Ma cooks the best dinners I ever had (oh the lobsters we had for dinner!).We stayed in a bungalow which was amazing:comfortable bed,amazing bathroom-all spotless clean.The property is located 10 min walk from the surfing beach.You can rent the scooter there and explore Bali away from resorts and all the tourists:) The best 4 days ever.Will be coming back for sure.Thank you so much for making our time there so relaxing and wonderful.
Margaret
United Kingdom • 19 Jan 20
Our stay was relaxing, worry free and very healing.
9,0
I loved Haji Ugis's healing massage. I have received only two massages (I wished I had more). He put me together in so many aspects of my life. I am returning to Australia more integrated, present, and with different (attitude) view on life. I will be able to look after myself better, people who depend on me, and those who come for healing to our practice. Ma is Ugis wife nad an amazing cook. She looked after us well. Be sure to express your appreciation. She likes it. It helps her to serve. We will be back to stay with the family and for Ugis's healing. We liked that our bungalow had Bali style bathroom. Thank you Ugis and Ma. You are beautiful. Beata Goodluck Australia
The hat that we stayed could be more sealed from mozzies. The family could leave mozzie coils in the room as this helped to keep them away at night.
Beata
Australia • 13 Jan 20
Deskripsi
Terletak di Pulukan, Medewi Surf Homestay berjarak 11 km dari Pura Rambut Siwi. Akomodasi ini menawarkan resepsionis 24 jam, restoran, dan teras. Wi-Fi gratis tersedia. Area ini populer untuk semua tingkat berselancar. Kamar-kamar di guest house ini memiliki teras. Medewi Surf Homestay memiliki beberapa kamar dengan pemandangan laut, dan kamar-kamarnya dilengkapi dengan balkon. Setiap kamar dilengkapi area untuk duduk bersantai. Sarapan Asia disajikan setiap pagi di akomodasi. Bandara terdekat adalah Bandara Banyuwangi, 53 km dari akomodasi.
Fasilitas


Kegiatan
Memancing
Selancar Angin
Hiking
Bersepeda
Menyelam
Snorkeling
Fasilitas Olahraga Air di-tempat


Makanan & Minuman
Restoran
Layanan Kamar
Fasilitas BBQ
Makanan anak

Kolam renang dan pusat kesehatan
Pijat

Transportasi
Antar Jemput Bandara Gratis
Rental sepeda (biaya tambahan)
Penyewaan Mobil

Layanan resepsionis
Resepsionis 24 Jam
Tempat Penyimpanan Barang
Brankas

Area umum
Taman
Teras
Teras Berjemur

Lain-lain
AC
Ruang Bebas Rokok
Kamar Keluarga
Hotel lain di Medewi Beach
Medewi Surf Homestay
-
Medewi, Pekutatan, Pulukan, Medewi, Pulukan, Indonesia, 82262
Lihat di Peta