Pinnacle Apartment Pandanaran
Apartemen
Jl. Pandanaran No. 18, Apartmenen Louis Kienne Pandanaran Lt. 9, Semarang, Indonesia, 50241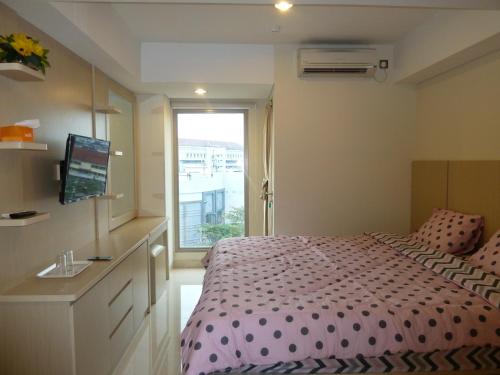 +59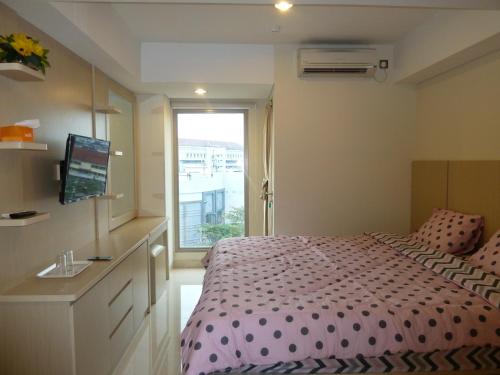 1/63
Fasilitas
AC

Kolam Renang
Lift

Ruang Bebas Rokok
Parkir Gratis
Pusat Kebugaran

Lihat Peta
Pencarian untuk
Sat, 30 Oct 2021 - Sun, 31 Oct 2021, 1 Kamar, 1 Tamu
Yahh, tidak ada kamar tersedia
Kamar yang kamu lagi tidak tersedia, coba ubah tanggal pencarianmu ya!
Ulasan dari tamu
Booking.com | Berdasarkan ulasan
Hanya tampilkan ulasan dari Indonesia
My friends and I really enjoyed the stay!
9,0
The room was nice and comfy. So many spaces for storage - it's great to keep the room from getting cluttered with bags and everything. AC, hot shower, and the electric kettle worked well. Access to the rooftop pools and gym was easy and free of charge. The CPs were very friendly and helpful. With all the facilities and location, the room is definitely a value for money.
The quality of the toilet tissue could be improved, also I noticed the water ran and puddled into the corner of the bathroom instead of into the proper drain. The window could be cleaner, but I guess it's the building management thing.
Annisa
Indonesia • 25 Feb 20
-
Pelayanan nya sangat tidak memuaskan...ketentuan cek out jam 12 siang...jam 11.20...pintu kamar sudah diketuk dan di Tungguin oleh pemilik...padahal teman saya sedang mandi...pemilik nungguin di depan unit apartemen...Saya merasa tidak nyaman...!!!!
Andrew
Indonesia • 22 Feb 20
Very clean and the owner was extremely friendly.
I expected some cutlery, dishes and cooking facilities but there was nothing
Anonymous
Korea Selatan • 17 Feb 20
Really sorry to say that this one was the most horrible. Check in was going well at first. We were asked for a cash deposit money in case there would be any damage, which we totally understand. The apartment itself was old, rusty and not well maintained. We went out for dinner and comeback to the room with a terribly broken washtafel! Didnt have idea how this could happen when we just spent few hours there before going out and had not get a chance to use. The host said it was normal having it broken like that. But he refused to give back our deposit. The damage were all charged to us that we found it's very unfair!! Like they just trap their guest, wait for something to be broken (or initially break the stuffs when guests were out) then charged this and that for their good. Very bad experience, sorry that we could never recommend this accomodation to other guests!
Annik
Indonesia • 8 Feb 20
Good experience and good value for money
10
The rooftop swimming pool was the best. Also the location is very strategic, it's walking distance to Lawang Sewu, pusat oleh-oleh khas Semarang, convenience store and a mosque, but you need to drive a bit to malls like Paragon or DP mall. The property is quite spacious for a studio apartment, clean and I really like the extra bed.
Almost nothing
Bayu
Indonesia • 20 Jan 20
Dekat banget ke mana2, kolam renang nya super! Pemilik apartemen ramah. Sangat bersih.
Danti
Indonesia • 3 Jan 20
Informasi penting
Harap beri tahu pihak Pinnacle Apartment Pandanaran terlebih dahulu mengenai perkiraan waktu kedatangan Anda. Diperlukan pembayaran sebelum kedatangan melalui transfer bank. Pihak akomodasi akan menghubungi Anda setelah pemesanan untuk memberikan instruksi. Deposit kerusakan sebesar IDR 500000 dibutuhkan saat kedatangan. Hal ini akan dikumpulkan sebagai pembayaran tunai. Deposit akan dikembalikan pada saat check-out. Deposit Anda akan sepenuhnya dikembalikan dalam uang tunai, tergantung dari hasil pemeriksaan akomodasi.
Deskripsi
Menampilkan kolam renang outdoor, ruang kebugaran, dan hot tub, Pinnacle Apartment Pandanaran terletak di Semarang, serta berjarak 15 km dari Brown Canyon dan 300 meter dari Tugu Muda. Akomodasi ini memiliki AC, dapur kecil lengkap dengan ruang makan, TV layar datar, dan kamar mandi pribadi dengan bidet. Tersedia juga mesin cuci piring, kulkas, dan teko. Apartemen ini menawarkan teras yang dapat Anda gunakan. Tempat-tempat menarik yang populer di dekat Pinnacle Apartment Pandanaran termasuk Lawang Sewu, Mal Ciputra Semarang dan Simpang Lima. Bandara terdekat adalah Bandara Internasional Ahmad Yani, 6 km dari akomodasi.
Fasilitas


Kolam renang dan pusat kesehatan
Kolam Renang
Pusat Kebugaran
Hot tub/Jacuzzi


Layanan kebersihan
Laundry
Cuci kering

Lain-lain
AC
Lift
Ruang Bebas Rokok
Pinnacle Apartment Pandanaran
-
Jl. Pandanaran No. 18, Apartmenen Louis Kienne Pandanaran Lt. 9, Semarang, Indonesia, 50241
Lihat di Peta