Ruby Nusa Dua Bali
Aparthotel
Jalan Pantai Mengiat Nusa Dua, BTDC, Nusa Dua, Bali, Indonesia, 80363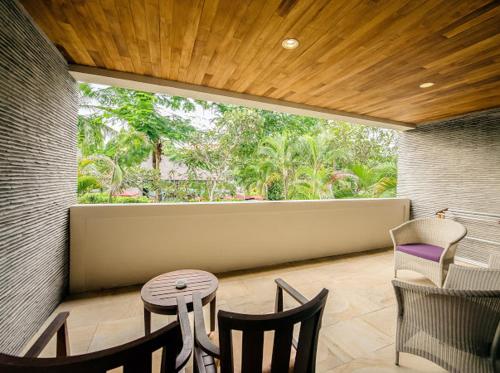 +12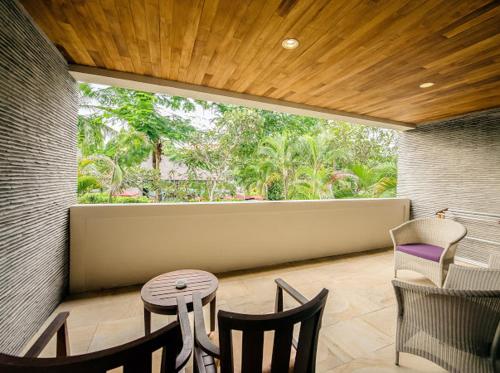 1/16
Fasilitas

Hygiene Verified
AC

Wi-Fi Gratis

Restoran

Kolam Renang

Ruang Bebas Rokok

Lihat Peta
Pencarian untuk
Tue, 26 Oct 2021 - Wed, 27 Oct 2021, 1 Kamar, 1 Tamu
Yahh, tidak ada kamar tersedia
Kamar yang kamu lagi tidak tersedia, coba ubah tanggal pencarianmu ya!
Ulasan dari tamu
Booking.com | Berdasarkan ulasan
Hanya tampilkan ulasan dari Indonesia
Lovely home and beautiful place to stay. I felt as if I were staying in my home. The owner was in contact with me whenever I needed support. The owner gave of water for drinking and some basic supplies. Thank you so much.
Neal
Amerika Serikat • 12 Jan 21
A spacious apartment with large rooms and double balcony is the highlight of the stay. It is livable for long term as it comes with a lots of pots and pans, a microwave and basics in the kitchen. Huge beds. The host is responsive even while he is on holiday. Strong air-conditioning.
The hot water seems a bit inconsistent across 2 different bathrooms.
Hazel
Australia • 1 Jan 20
Met our needs to stay near family in Nusa Dua.
9,0
We liked the layout of the apartment and the ability to use all the Novotel facilities. If you like Nusa Dua, this is a great affordable way to stay there.
The crockery and glassware were covered in a lot of grime and everything had to washed before use. No daily service or replenished water bottles, meant we were constantly needing to buy bottles.
Justin
Australia • 22 Sep 19
Very spacious, clean and comfortable appartement! Once we got there we were positive surprised by the luxueus appartement. It felt like entering the executive suite of a 5-star hotel. Usually the pictures on internet are better than the actual accommodation, this was really the other way around. You can use all the hotel facilities, like kids club, towel service, sunbeds, swimming pool, etc. We could have late check-out without additional charge and the owner even arranged a free airport transfer (arrange it via the appartment owner and not the hotel). Lots of souvenir shops and restaurants around the corner at walking distance. The hotel has the 'Pause cafe' where you can buy very nice croissants, baguettes a good cup of coffee and other pastries for breakfast.
The location in Google maps is not correct. We had some trouble finding the place. Ruby is the name of the building in the hotel, not the name of the hotel itself. It is not allowed by the hotel to mention its name.
Alwin
Belanda • 13 Agu 19
The apartment is very nice and spacious, even larger than expected. It is kept clean and aircon works well. Two balconies face a beautiful swimming pool area. Guests of the apartment may use all the amenities of Novotel with its beautiful territory, friendly stuff and great service. The host Iki Aby Sontani is so welcoming and helpful, he goes beyond and above. He provided a driver to pick us up from the airport and left some food and water by our late night arrival. Communicating by email he was very responsive whenever we needed to contact him. Our kids and we were very pleased with a choice. Had a great stay and will definitely come there again.
Yury
Rusia • 20 Jun 19
Great once we found the place.
8,0
Apartment and Novotel staff were fantastic once we located the property after driving around for 90 minutes in the taxi looking for the property and the resident owners two contact numbers are disconnected.
The address for the property is wrong on google search and not once mentions its within the Novotel Resort. The location comes up 600m or 3 streets west of actual location. The property owners two phone numbers are disconnected. After driving around in a taxi for 90 minutes we called booking.com and eventually the second customer service staff members advised it was within Novotel Nusa Dua. You need to fix the address and location on the website today.
Shane
Australia • 30 Apr 19
Informasi penting
Dikelola oleh tuan rumah individu
Deskripsi
Terletak di Nusa Dua, Ruby Nusa Dua Bali menawarkan akomodasi dengan balkon dan Wi-Fi gratis. Semua unit dilengkapi dengan area tempat duduk, sofa, TV layar datar, dan dapur yang lengkap. Aparthotel ini menawarkan kolam renang outdoor. Ruby Nusa Dua Bali menawarkan teras. Museum Pasifika berjarak kurang dari 1 km dari akomodasi. Bandara terdekat adalah Bandara Internasional Ngurah Rai, 13 km dari akomodasi.
Fasilitas


Kegiatan
Lapangan Golf (dalam jarak 3 km)
Tenis Meja
Bersepeda
Fasilitas Olahraga Air di-tempat
Waterpark
Makan malam bertema


Makanan & Minuman
Restoran
Bar
Layanan Kamar
Sarapan Dalam Kamar
Fasilitas BBQ
Makanan anak
Buffet ramah anak

Kolam renang dan pusat kesehatan
Kolam Renang
Pusat Kebugaran
Spa dan Pusat Perawatan Tubuh
Pijat
Mainan kolam renang
Area Pantai Pribadi
Swimming Pool
Handuk kolam renang/pantai
Kolam dangkal

Transportasi
Antar Jemput Bandara Gratis
Rental sepeda (biaya tambahan)
Penyewaan Mobil
Antar-Jemput Bandara (biaya tambahan)


Lain-lain
AC
Ruang Bebas Rokok
Cocok untuk Tamu Difabel
Kamar Keluarga

Inisiatif keberlanjutan
Bicycle rental

Fitur Keamanan
Hygiene Verified
Kebersihan & Disinfeksi
Seprai, handuk, dan pakaian dicuci sesuai pedoman otoritas setempat
Ruby Nusa Dua Bali
-
Jalan Pantai Mengiat Nusa Dua, BTDC, Nusa Dua, Bali, Indonesia, 80363
Lihat di Peta