ZEN Hostel Kualanamu
Hostel
Located in My Studio Hotel Kualanamu Airport Medan, Jalan Arteri Kualanamu NO 9 A38, Medan, Indonesia, 20372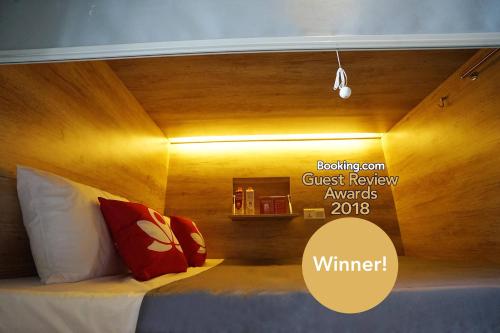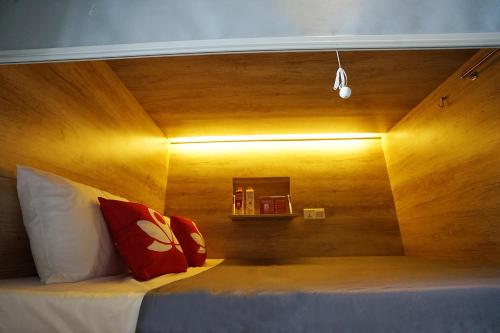 +13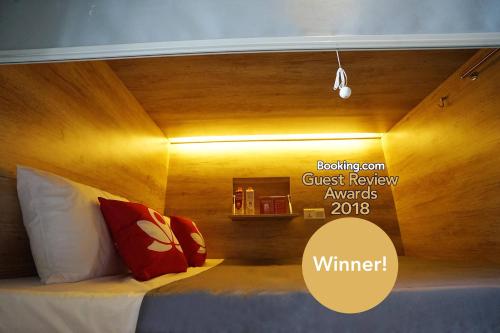 1/17
AC

Wi-Fi Gratis

Ruang Bebas Rokok
Resepsionis 24 Jam

Antar Jemput Bandara Gratis

Layanan kebersihan harian

Lihat Peta
Pencarian untuk
Tue, 21 Sep 2021 - Wed, 22 Sep 2021, 1 Kamar, 1 Tamu
Yahh, tidak ada kamar tersedia
Kamar yang kamu lagi tidak tersedia, coba ubah tanggal pencarianmu ya!
Ulasan dari tamu
Booking.com | Berdasarkan ulasan
Hanya tampilkan ulasan dari Indonesia
toast and coffee provided
difficult for group airport shuttle.
Nabilah
Malaysia • 19 Jan 20
Free shuttle to the airport, on time Spotless clean, ac in the room and hot shower ! Nice people at the reception Morning coffee from 6 am
Hard to find , at the end of the small alley and no real sign, but it is definitely worth getting there !
Marine
Prancis • 25 Sep 19
Maartjeee
Indonesia • 22 Agu 19
Perfect place to stay if you fly to or from Medan
10
Modern and clean hostel, conveniently located only 10 minutes from the airport. Rooms have AC and beds are comfortable. And warm showers! The room fare includes a free shuttle service to the airport that goes multiple times a day. Because the hostel is near some sort of mall, there are even a few restaurants/coffee places you can walk to in 5 minutes if you need to grab dinner. Exactly what I needed for flying out from Medan the next morning!
No complaints!
Lieke
Indonesia • 23 Mei 19
Everything was just absolutely excellent. From the smooth check-in to the free transfer to the airport. That's quality level you don't often see on Sumatra island, and at the rate they offer it for it's just brilliant. Top value for money. Absolutely recommended if you have an early flight out of Medan airport.
Nothing, really. Everything was just stellar. Oh, maybe there was no soap in one of the sink blocks (I might be mistaken, though!), just to show you how insignificant the flaws are.
Slava
Jerman • 19 Apr 19
Deskripsi
Menawarkan akomodasi bintang 1, ZEN Hostel Kualanamu terletak di Medan, serta berjarak 25 km dari Masjid Agung Medan dan 26 km dari Istana Maimun. Hotel bintang 1 ini menawarkan layanan antar-jemput gratis, resepsionis 24 jam, dan Wi-Fi gratis. Akomodasi berjarak 28 km dari Centre Point Medan dan Cambridge City Square. Kamar mandi bersamanya dilengkapi dengan shower. Semua kamarnya dilengkapi dengan meja. Medan Mall dan Pajak Ikan Medan berjarak 27 km dari ZEN Hostel Kualanamu.
Fasilitas


Transportasi
Antar Jemput Bandara Gratis

Layanan resepsionis
Resepsionis 24 Jam
Layanan kebersihan
Layanan kebersihan harian

Lain-lain
AC
Ruang Bebas Rokok
ZEN Hostel Kualanamu
-
Located in My Studio Hotel Kualanamu Airport Medan, Jalan Arteri Kualanamu NO 9 A38, Medan, Indonesia, 20372
Lihat di Peta